Home | Seminar |
HKCMA Technical Seminar 2019
Beyond Maturity, a Webinar on SmartRock Sensors a Non-Destructive Testing system for Concrete Strength – The Giatec Solution
Seminar Speakers Presentation Materials
SmartRock Sensors a Non-Destructive Testing system for Concrete Strength – The Giatec Solution

View
The webinar on topics of SmartRock Sensors, a Non-Destructive Testing system for Concrete Strength, has been successfully held on 28 September 2021. Total Number of participants are 109 including HKCMA Members, Government Departments (DEVB, CEDD, ArchSD, Building Department, EBD, CIC, HYD, WSD, etc), and industry stakeholders.

Contents:
• Benefits of Concrete Maturity
• Calibration Procedure
• Time-Saving Analysis of SmartRock
• SmartRock Suite of Features
Details:
Topic: Beyond Maturity, a Webinar on SmarRock Sensors a Non-Destructive Testing system for Concrete Strength – The Giatec Solution
Date: 28 September 2021 (Tuesday)
Time: 3:00 pm – 4:00 pm (HKT)
Language: English
Fee: Free of Charge
Spearker:
Mr. Matthew Denton, Channel Manager for Asia and EMEA, has over 18 years of experience in the concrete industry and has always had a deep passion for concrete. From mixing concrete on site to designing the formwork that supports the concrete, he has seen all sides of the industry. With this knowledge and experience he proudly presents cutting edge methods of concrete testing to the world.
Latest Events
Delegation on an Inspection Visit to Sany Group in Changsha, Hunan

Wednesday, May 17, 2023

From April 24th to 26th, 2023, a group of 23 people led by Mr. Ambrose Linn , Chief Executive of the Hong Kong Construction Materials Association, and Mr. Eric Chiu , Chairman of Ready-Mixed Concrete ...

read more

Construction Innovation Expo 2019

Monday, Dec 30, 2019

Running from 17 to 20 December, the four-day CIExpo attracted over 23,800 visitors and gathered a total of 228 renowned companies and organisations from 15 countries and regions to participate in the ...

read more

Visit the O • PARK 2 Low Carbon Construction Exhibition Hall

Thursday, Jan 12, 2023

O • PARK 2 is located at Sha Ling in North District, Hong Kong. The project was constructed by AJA Joint Venture which was formed by Alchmex Construction (International) Limited (Alchmex), a wholly ...

read more
Become a Member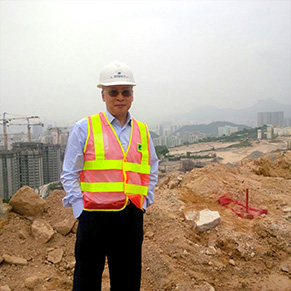 Join Now for instant access to members-only resources and training workshop to help your company/organization stay current and ensure your professional success. Start enjoying the many valuable benefits offered to HKCMA Members.